Obviously, Champagne is not the only wine produced in this villages. Some very privileged areas produce a red wine of great class. Bouzy, for example, is a highly sought-after red wine created from the Pinots Noirs grapes which abound in this area.


Why ?
Before Champagne was discovered and the fermentation in bottle was put into practice, the Champagne region used to produce red and white wines which tended to ferment naturally during the spring unless we could explain it.
A perfect exposure of its vineyard, totally south facing and protected from North ans West rainy winds thanks to the Reims Montain can explain the quality of the Bouzy wine. Moreover, Bouzy benefits from an exceptional microclimate.
How ?
Simply by selecting the best parcels from the best small-yielding vines. We can produce this wine only thanks to a permanent follow-up an because it is kept in oak barrels.
Bouzy remains one of the few villages still going on with the tradition of red wine and has this wonderful privilege to have a very good Champagne and a very good wine also …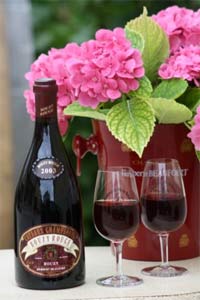 Bouzy Rouge Millésimé 2009
To be served at 12° (pure Pinot Noir).
This still red wine has been produced only in the best years. The choice from the best plantations, strictness in selecting the bunches of grapes, the traditional vinification method and a maturation of 2 years in oak barrels give this rare wine a ruby colour and an uncommon elegance.
This wine is advised with white meats and cheeses.



Notre Bouzy Blanc Millésimé 2012

To be served at 12° (pure Chardonnay).
This still white wine is vigourous, vinous, fleshy and well-constituted. It will be appreciated chilled with fishes and shellfishes.